Carcinoma de células de Merkel
Palabras clave:
carcinoma de células de Merkel, poliomavirus
Resumen
El carcinoma de células de Merkel (CCM) cutáneo es una neoplasia de curso agresivo, con tasas de mortalidad mayores que las del melanoma y un alto índice de recurrencia locorregional y de metástasis a distancia. Su incidencia es baja, pero en los últimos años se encuentra en aumento y se estima que continuará en ascenso.
Afecta con mayor frecuencia a pacientes añosos, en especial mayores de 65 años, con un ligero predominio en los varones. Su etiopatogenia está relacionada, por un lado, con la exposición a la radiación ultravioleta (RUV) y, por el otro, con la infección por un nuevo poliomavirus (MCPyV), el primero asociado a neoplasias en los seres humanos.
Suele aparecer como una lesión tumoral eritematosa, de consistencia firme y rápido crecimiento, asintomática, en áreas fotoexpuestas de la piel. Debido a que no presenta un rasgo distintivo, su sospecha clínica es baja y, en general, puede confundirse con lesiones benignas.
El diagnóstico se realiza mediante la clínica y el estudio histopatológico e inmunohistoquímico (IHQ) de la lesión. Con tinción de hematoxilina y eosina se observa un tumor compuesto por células basófilas pequeñas, de citoplasma escaso y con núcleos hipercromáticos. La IHQ presenta marcación positiva para la citoqueratina 20, con una elevada sensibilidad.
La extirpación quirúrgica de la lesión primaria es el tratamiento de elección. Las últimas recomendaciones incluyen el estudio histopatológico del ganglio centinela ante el diagnóstico de CCM para obtener una correcta estadificación. De acuerdo con el estadio, se procederá al abordaje terapéutico de forma interdisciplinaria.
Citas
I. Toker C. Trabecular carcinoma of the skin. Arch Dermatol 1972;105:107-110.
II. Tang CK, Toker C. Trabecular carcinoma of the skin. An ultrastructural study. Cancer 1978;42:2311-2321.
III. Paulson KG, Park SY, Vandeven NA, Lachance K, et ál. Merkel cell carcinoma: Current US incidence and projected increases based on changing demographics. J Am Acad Dermatol 2018;78:457-463.
IV. Schadendorf D, Lebbé C, Hausen A, Avril MF, et ál. Merkel cell carcinoma: Epidemiology, prognosis, therapy and unmet medical needs. Eur J Cancer 2017;71:53-69.
V. Hodgson NC . Merkel cell carcinoma: Changing incidence trends. J Surg Oncol 2005;89:1-4.
VI. Youlden DR, Soyer HP, Youl PH, Fritschi L, et ál. Incidence and survival for merkel cell carcinoma in Queensland, Australia, 1993-2010. J Am Acad Dermatol 2014;150:864-872.
VII. Fitzgerald TL, Dennis S, Kachare SD, Vohra NA, et ál. Dramatic increase in the incidence and mortality from merkel cell carcinoma in the United States. Am Surg 2015;81:802-806.
VIII. Kaae J, Hansen AV, Biggar RJ, Boyd HA, et ál. Merkel cell carcinoma: Incidence, mortality, and risk of other cancers. J Natl Cancer Inst 2010;102:793-801.
IX. Lemos B, Nghiem P. Merkel cell carcinoma: More deaths but still no pathway to blame. J Invest Dermatol 2007;127:2100-2103.
X. Girschik J, Thorn K, Beer TW, Heenan PJ, et ál. Merkel cell carcinoma in Western Australia: A population-based study of incidence and survival. Br J Dermatol 2011;165:1051-1057.
XI. Zaar O, Gillstedt M, Lindelöf B, Wennberg-Larkö AM, et ál. Merkel cell carcinoma incidence is increasing in Sweden. J Eur Acad Dermatol Venereol 2016;30:1708-1713.
XII. Fondain M, Du Thanh A, Bessaoud F, Dereure O, et ál. Epidemiological trends in Merkel cell carcinoma in southern France: a registry-based study. Br J Dermatol 2017;176:1379-1381.
XIII. Eisemann N, Waldmann A, Geller AC, Weinstock MA, et ál. Non-melanoma skin cancer incidence and impact of skin cancer screening on incidence. J Invest Dermatol 2014;134:43-50.
XIV. Reichgelt BA, Visser O. Epidemiology and survival of Merkel cell carcinoma in the Netherlands. A population-based study of 808 cases in 1993-2007. Eur J Cancer 2011;47:579-585.
XV. Heath M, Jaimes N, Lemos B, Mostaghimi A, et ál. Clinical characteristics of Merkel cell carcinoma at diagnosis in 195 patients: the AEIOU features. J Am Acad Dermatol 2008;58:375-381.
XVI. Wong SQ, Waldeck K, Vergara I, Schröder J, et ál. UV-associated mutations underlie the etiology of MCV-negative Merkel cell carcinomas. Cancer Res 2015;75:5228-5234.
XVII. Wang TS, Byrne PJ, Jacobs LK, Taube JM. Merkel Cell Carcinoma: Update and Review. Semin Cutan Med Surg 2011;30:48-56.
XVIII. Walsh NMG. Primary neuroendocrine (Merkel cell) carcinoma of the skin: Morphologic diversity and implications thereof. Hum Pathol 2001;32:680-689.
XIX. Lunder EJ, Stern RS. Merkel cell carcinoma in patients treated with methoxsalen and ultraviolet A radiation. N Engl J Med 1998;339:1247-1248.
XX. Lanoy E, Costagliola D, Engels EA. Skin cancers associated with HIV infection and solid-organ transplantation among elderly adults. Int J Cancer 2010;126:1724-1731.
XXI. Feng H, Shuda M, Chang Y, Moore PS. Clonal integration of a polyomavirus in human Merkel cell carcinoma. Science 2008;319:1096-1100.
XXII. Chang Y, Moore PS. Merkel cell carcinoma: a virus-induced human cancer. Annu Rev Pathol 2012;7:123-144.
XXIII. Samimi M, Touzé A. Merkel cell carcinoma: The first human cancer shown to be associated with a polyomavirus. Press Med 2014;43:e405-e411.
XXIV. Harms PW, Vats P, Verhaegen ME, Robinson DR, et ál. The distinctive mutational spectra of polyomavirus-negative merkel cell carcinoma. Cancer Res 2015;75:3720-3727.
XXV. Saadi ME, Alarcón B, Abeldaño A, Brea P, et ál. Carcinoma de células de Merkel. Dermatol Argent 2002;8:218-222.
XXVI. Viola A, Martinez M, Larre Borges A, Laporte M, et ál. Carcinoma de células de Merkel. Med Cutan Ibero Lat Am 2008;36:142-145.
XXVII. Paradela S, Peña C, Fernández-Jorge B, Vieira V, et ál. Carcinoma de células de Merkel. Actas Dermosifiliogr 2004;95:553-559.
XXVIII. Cañadas NG, Luna PC, Nocito MJ, Lustia MM, et ál. Carcinoma de células de Merkel. Estudio de 5 casos. Dermatol Argent 2009;15:428-433.
XXIX. Radonich JE, Sanz A, Montardit AL, Sanz P, et ál. Carcinoma de células de Merkel asociado a linfoma B folicular. Arch Argent Dermatol 2016;66:45-48.
XXX. Cohen Sabban E, Lacassagne J, Pietrapaolo N, Mohr Y, et ál. Carcinoma de células de Merkel estadio III. Arch Argent Dermatol 2007;57:95-101.
XXXI. Calder KB, Smoller BR. New insights into merkel cell carcinoma. Adv Anat Pathol 2010;17:155-161.
XXXII. Cappetta ME, Casas G, Stengel F. Tumor de células de Merkel. Arch Argent Dermatol 2009;259:227-238.
XXXIII. Mc Calmont TH. Paranuclear dots of neurofilament reliably identify Merkel cell carcinoma. J Cutan Pathol 2010;37:821-823.
XXXIV. Smoller BR, Bichakjian C, Brown A, Crowson AN, et ál. Protocol for the Examination of Specimens From Patients With Merkel Cell Carcinoma of the Skin.[en línea] College of American Pathologists, junio 2017. Version: MerkelCell 4.0.0.1 <https://documents.cap.org/protocols/cp-skin-merkelcell-17protocol-4001.pdf [Consultado octubre 2018].
XXXV. Gupta SG, Wang LC, Peñas PF, Gellenthin M, et ál. Sentinel Lymph Node Biopsy for Evaluation and Treatment of Patients With Merkel Cell Carcinoma. Arch Dermatol 2006;142:685-690.
XXXVI. Colgan MB, Tarantola TI, Weaver AL, Wiseman G, et ál. The predictive value of imaging studies in evaluating regional lymph node involvement in Merkel cell carcinoma. J Am Acad Dermatol 2012;67:1250-1256.
XXXVII. Merkel cell carcinoma NCCN clinical Practice guidelines in Oncology. Versión 2.2019<https://merkelcell.org/wpcontent/uploads/2019/01/MCC_v.2.2019.pdf. [Consultado agosto 2019].
XXXVIII. Edge SB, Byrd DR, Compton CC, Fritz AG, et ál. Merkel cell carcinoma. AJCC Cancer Staging Manual. 7th ed. Springer; 2010;315-323.
XXXIX. Lemos BD, Storer BE, Iyer JG, Phillips JL, et ál. Pathologic nodal evaluation improves prognostic accuracy in Merkel cell carcinoma: Analysis of 5823 cases as the basis of the first consensus staging system. J Am Acad Dermatol 2010;63:751-761.
XL. Sadeghi R, Adinehpoor Z, Maleki M, Fallahi B, et ál. Prognostic Significance of Sentinel Lymph Node Mapping in Merkel Cell Carcinoma: Systematic Review and Meta-Analysis of Prognostic Studies. Biomed Res Int 2014;2014:489536.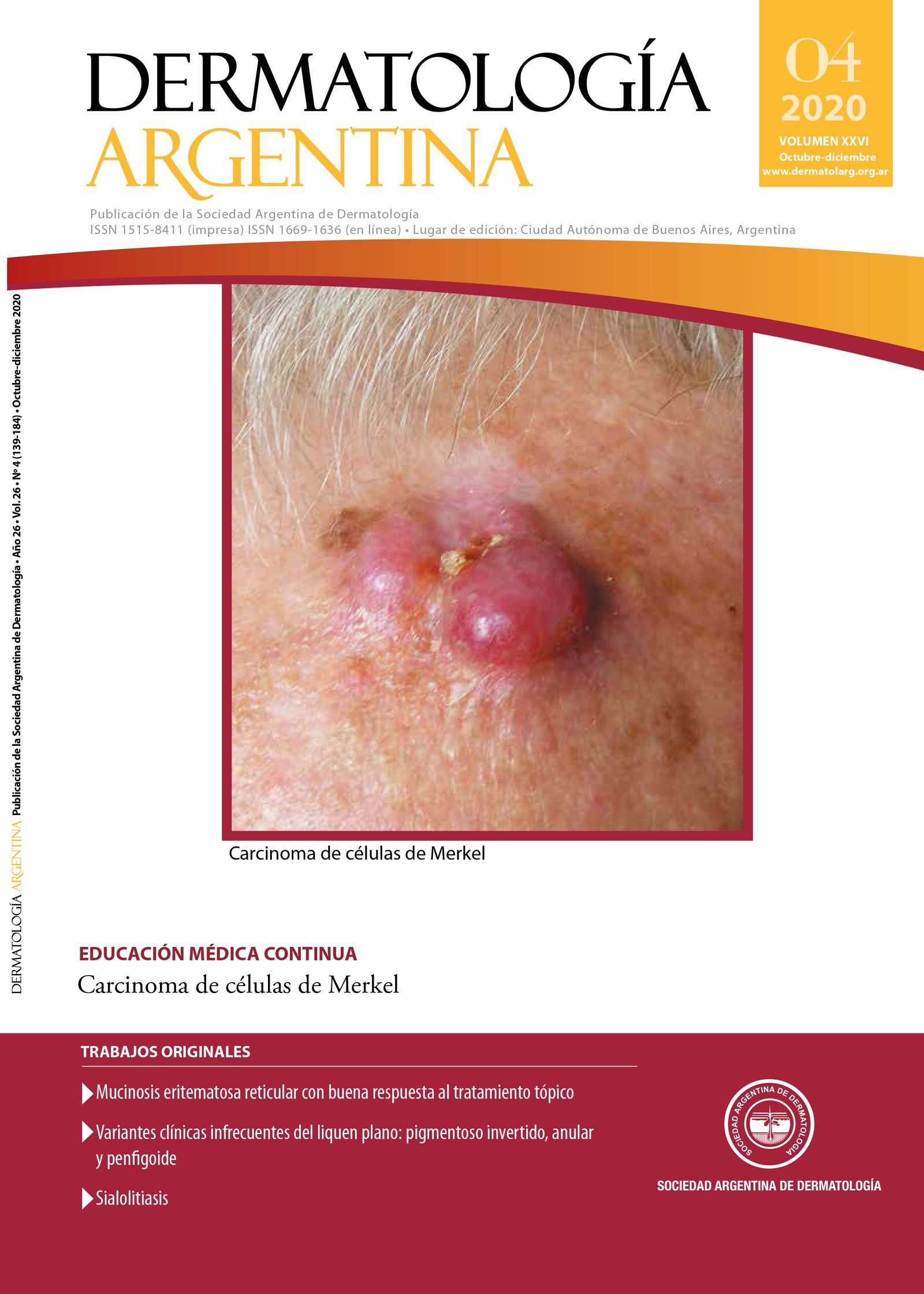 Descargas
Sección
Educación Médica Continua
Licencia
El/los autor/es tranfieren todos los derechos de autor del manuscrito arriba mencionado a Dermatología Argentina en el caso de que el trabajo sea publicado. El/los autor/es declaran que el artículo es original, que no infringe ningún derecho de propiedad intelectual u otros derechos de terceros, que no se encuentra bajo consideración de otra revista y que no ha sido previamente publicado.
Le solicitamos haga click aquí para imprimir, firmar y enviar por correo postal la transferencia de los derechos de autor